Farewell to Mariangela Tempera
Posted by James Joyce Italian Foundation on 09/01/2016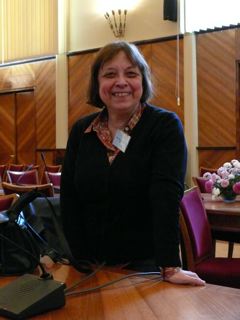 Mariangela Tempera, who sadly passed away on December 31, 2015, has been a member of The James Joyce Italian Foundation since its establishment. As a Shakespeare scholar, she was internationally known for her study of Shakespeare and the popular media, a field in which she conducted pioneering work, both in her writings and papers read at conferences throughout the world and in the work she did at the University of Ferrara.
Thanks to her tireless and intelligent activity as promoter and organiser of cultural initiatives, the University of Ferrara became, in a few years, one of the major sites for the study of Shakespeare in Italy, offering to young students opportunities to let themselves known in the field of Shakespeare studies, and to all scholars a conspicuous library and a peerless collection of films and videos of Shakespearean subject. We also owe her the institution, in Ferrara, of a Shakespeare Centre, a huge collection of films and videos of Shakespearean subject and the organization of yearly Conferences on the issue of "Shakespeare from text to scene" whose outcome was the publication of a series of prestigious volumes she personally edited.
She was also deeply interested in Joyce. Back in 1986 she was among the participants in one of the first Joyce meetings in Italian universities. "L'officina di Joyce" (Joyce's Workshop, from the Epiphanies to Finnegans Wake) Pisa 31 January- 2 February. Her contribution to that conference is published in myriadmindedman, Jottings on Joyce (1986) ed. by Bosinelli, Pugliatti and Zacchi. It consisted in an original reading of the Circe episode. Her passion for collecting Shakespeare citations in contemporary media (films, TV programmes, advertisements etc.) included a similar research on Joyce as is evident in her paper "References to James Joyce in Films and Television: A Catalogue in Progress", in the collection in honour of Rosa Maria Bollettieri Bosinelli A Joyceful of talkatalka from frienshapes (2011), ed by Baccolini, Chiaro, Rundle and Whitsitt. The catalogue will remain "in progress", unfortunately, a Joycean title that sounds ironic in these days of mourning.
Those who had the chance of knowing Mariangela will deeply miss not only her competence and originality as a scholar, but also her bright intelligence, her irony, her sense of humour, her often unconventional manners, her lightness and her cheerfulness.
She was a passionate researcher and teacher, and a dear friend: she will be greatly missed.
Sorry, the comment form is closed at this time.